Being subscriber to our Avoid Hysterectomy List will bring you valuable advice to try to help and maintain your current health. There are no guarantees that we shall succeed, but I assume you want to try new therapies and methods before you succumb to surgery.
About 80% of all hysterectomy cases could be saved from surgery, but the remaining 20% cannot. The first step to see where your case belongs is to do a medical horoscope reading for hysterectomy. From it, we can see what happened in your natal chart in the previous months and years and we shall try to connect the events in real life with the events in the chart. Once we connect them, we can predict whether the same or similar astrological circumstances will happen again so that you can prepare in advance.
What Happens After You Enter Your Name and Email Address?
You will first have to confirm that you want to belong to this list. Check your email client and find the message with this subject line:
Response Required: Please confirm your request for information
Its contents will look like this: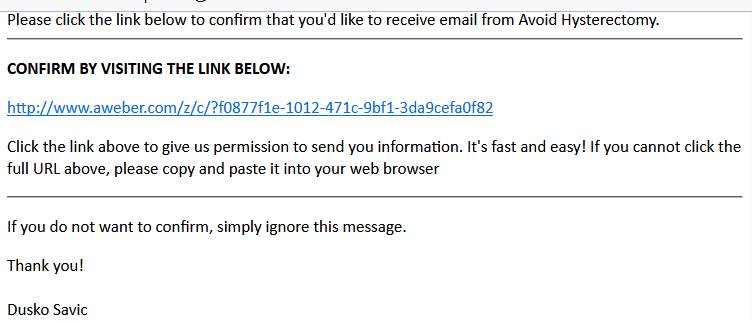 Click on the link in that message and you will be taken to the next page, which confirms that you are in the list. The title of that page is Thank You For Confirming Subscription To Our Avoid Hysterectomy List and it will look like this: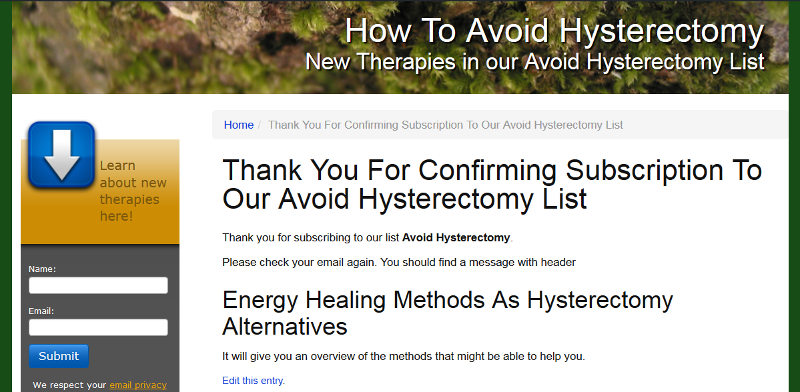 The first email in the series will reach you shortly, if it hasn't already. In case you do not receive it within the next couple of minutes, try searching in the spam and trash folders of your account, especially if you are on gmail.com.
The email message you will receive after the confirmation will look like this:
The first several messages I am going to send one per day, will educate you on various therapies that can be applied to gynecological problems. The therapies I chose are easy to use, relatively cheap, and you can master one or several of them and make your life easier.
Please Whitelist These Two Sites
Please whitelist the following two sites of mine:
how-to-avoid-hysterectomy.com

astroint.com
so that I can send you digital documents from them in the future.
AstroInt.com is not ready yet for general public but it contains astrological software that I have written and will be very useful in the future.
How To Contact Me In The Future?
The best way to contact me is the contact page on this site, however, you can find me on Facebook too, as well as on Skype (duskosavic) and Viber (+381641385043). Please note that I am not immediately available on Viber and the best way would be to send me a message there first.
My preferred way of communication is Skype. I can show you the charts directly on the screen with it and if you love astrology, you will see how and why I delineate the horoscopes the way I do.
I can also offer you a diagnosis through a psychic reading with a pendulum and a radionics machine.
I also offer transfer of energy (distant healing) via radionics and Reiki. You can use both if you want to. I strongly suggest you first order you free Reiki healing session, which will be done live over Skype, for free. My time zone is CET, and it is one hour to the east of Greenwhich in winter, and two hours in the summer.
Once again, I'm here to help you through a difficult part of your life so let me know if you need more information and explanation.